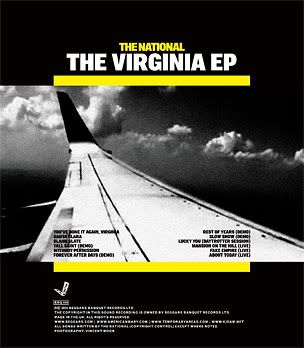 Release Date
: 05/20/08
Genre
: Indie Rock
It's funny, ever since i wrote a review for Boxer, The National have increasingly become one of my most listened to bands and although I can't get into their music before Alligator, I'm pretty sure they are one of my favorite bands. This EP is pretty long, but most of it is left over material so it's just a nice bonus to keep me company for a while.
Review
: It's nice to have a studio version of "You've Done it Again, Virginia." The next two are b-sides so I've heard them, but still, it's great to have on the album. Any of the top 3 songs will end up on my top 25 songs of the year list.
The demo version of "Slow Show" is pretty interesting, like I like it, and at times I'll prefer it over the Boxer version, but my heart knows it's not as serious as the boxer version. After knowing Slow Show by heart, it feels amazing to experience the same song in a more loose and almost in a nonsensical form.
Everything else is fairly good. I'm not too big of a fan of the songs they covered (Mansion on the Hill is great), but I can't be negative because Matt Berninger has that effect on me, plus this is the b-side/leftover album so of course it won't compare to Boxer.
Summary
: Pretty good EP
Key Tracks
: You've Done it Again, Virginia, Santa Clara, Slow Show (demo)
Rating
: 7/10