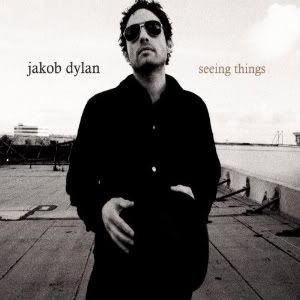 Release Date
: 06/10/08
Genre
: Acoustic folk rock
I didn't get into music until 2002 and during that time where I was trying to build upon my musical taste, right behind Michelle Branch, Lifehouse, and Savage Garden, my 4th favorite band was The Wallflowers. I discovered them on an episode of SNL where they sang "Sleepwalker," and even though I enjoyed the song, I didn't download them until i saw that same episode air again on Comedy Central of that year. "Red Letter Days" was my first album and I loved every song. And at the time, finding an album where I didn't skip a song was a rare occurrence for me. I'm glad I was able to avoid hearing "One Headlight" or I might have shot them aside as a one hit wonder band. Even though my musical taste has shifted from where i once was and The Wallflowers from the late 1990s/early 2000s are long gone, Jakob Dylan hasn't done anything that has angered me. What I'm trying to say is, I'm going to be very bias.
Review
: The first song on the album, "Evil is Alive and Well" is something that has been on Jakob's myspace page for a while, so I've gotten used to it being a safe folksy song. It doesn't really pack a punch as an opener, but the second track is much more welcoming and warm. The melodies he created here are surrounded with kindness. I really like this song.
The next three follow the same route. It's mainly a few chords repeating over and over and most of the hooks or melodies come straight from Jakob's vocals. I haven't heard "God Says Nothing Back" in a while, but with my first few listens of "Will it Grow," parts of it, especially the beginning verse clicked in my mind, except "Will it Grow" is more upbeat.
Both "I Told You I Couldn't Stop" and "War is Kind" are the quietest tracks on the record. You can barely hear the guitar, but I really like his vocals here. The way he just delivers his lines in a fluent matter and none of the words really say "I'm a lazy songwriter, but at least it rhymes." They just really fit naturally.
The last two tracks of the album follow the same style. Simple guitar chords, but his voices has that effect on me. I just feel very calm hearing him play. The pre-chorus are always great as it gets into the chorus. Still, it's not a typical verse-chorus exchange. Actually it is typical. Or should I say "standard." I guess what my ears are trying to tell me is that the verses don't feel like they are rushing just to go back to the familiar chorus because the verse itself is great to listen to.
The only song I have trouble with was "Something Good This Way Comes," now maybe it's suffering from the "I heard it already on myspace" issue, but it feels too generic for me. I felt that way when I first heard it which was why I wasn't expected much from the album. Although, it was nice to hear him say the lines "Moving Mountains" in the song.
Summary
: Anyways, I'm always hesitant about stripped down "guy and his guitar" albums. Although I enjoy Red Letters Day and (Breach) better, those 2 albums always remind me of the last 90s adult alternative pop rock radio stations, so I'm glad Jakob sounds new and old, but current enough where I feel that it's just him being the 38 year old that he is and it's not him having pressures to have another "One Headlight." In fact, none of the songs here will fit on radio. I like that the album is almost made for fans like me, but like I said, I'm bias. Even if every music publication gave this a negative review, I'll stand by and say that this album is great.
Key Tracks
: Valley of the Low Sun, War is Kind, On Up The Mountain
Rating
: 8/10