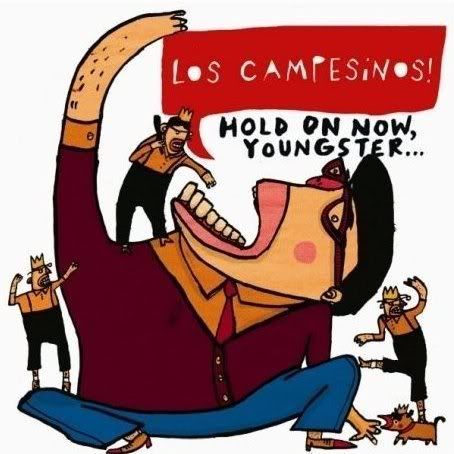 Release Date
: 04/01/08
Genre
: Indie Pop
Review
: Male and female vocals back and forth with cleaver lyrics. The first 6 are unbelievable. Sometimes singing, sometimes shouting. Sometimes calm, sometimes urgent. Usually evenly distributed together. It's really catchy. they all kind of sound the same, except it's more of a united theme so it really feels strong as an album.
"Death To Los Campesinos!" starts it off quick with sweet vocals and screech vocals. Male and female tangling together. "I promise SURGAR I wasn't trying to steal." "Broken Heartbeats Sound Like Breakbeats" begins with shouts of "1,2,3,4" that I actually was disfalutered with, but again, the crazyiness of it all, clapping and "b-b-b-b-b-b-b-b." The male reminded me of Bloc Party on this song.
"I'm taking far too many chances
On these less than idealistic romances"
"Drop it Doe Eyes" is awesome. The girl finally gets a chance to be the lead. So cute. Then the ending is so furious as it rushes towards a panic. I actually don't understand how people can't like this album.
"My Year in Lists" is the shortest, but it's the one that's always the one I want to repeat. There's like 4 people singing at once, maybe more. A pretty boy, the pretty girl, and then some shouting in the back. It all gets mixed in this crazy sound pot and the second half of the song gets treated to the background noises of "1, 2, 3, 4, FIVE FIVE FIVE FIVE." It's insane.
"Knee Deep At A.T.P." is my favorite lyrically. It starts with a chaotic guitar jumble and then stops, violin kicks in and guy sings. He said it's his Toni Braxton song and I love the line "And when our eyes meet, all that I can read, is 'you're the b-side.'" That's so good.
Summary
: The catchiest album of the year. I love the loud and soft parts of the album.
Key Tracks
: Drop It Doe Eyes, My Year In Lists, Knee Deep At ATP
Rating
: 8/10