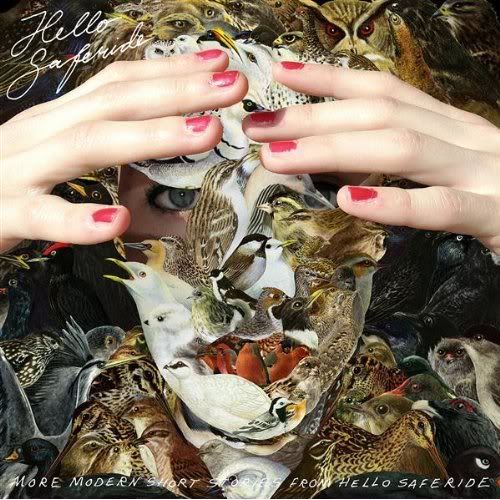 Release Date
: 09/24/08
Genre
: Indie Pop
For some weird reason, I thought Hello Saferide was this person's name.
Review
: A nice mellow song starts off and the lyrics really describe how I see my friends. Some friends are catchy "Can't Get You Out of my Head" while some are amazing like "God Only Knows." Nice echos. I love the end where she just rambles on and it stops right into "2008." This second song is louder and the chorus is fuller. I enjoy the way she just 'talks' like a stream of consciousness and the harmonies with her own 'voice' is so cool.
She really sounds like Tilly and the Wall on "Overall." 8th notes on the piano for the whole song. it doesn't change much, but she has the power to create really lovely melodies. And there's background vocals from a male (and as a lead role for a few lines) so it gave the song a interesting texture.
"Lund" has a clear piano melody throughout the song and it gets layered with other instruments and becomes grand and grand towards the end of the song. So damn lovely.
"X Telling Me About The Loss Of Something Dear,At Age 16" has a country feel to it. The ending is like "Overall" where it feels like it could go on forever.
"Middleclass" sounds like Missy Higgins.
"Parenting Never Ends" displays a calmer side.
"Anna" is a what if song that really made me sad at the end, even thought the beginning said "we could have..." The way she made anna sound like a normal daughter that only adds delight to a relationship makes me smile.
"25 Days" is epic. It's about waiting 25 days to see someone and it's a cheery upbeat song with full blown choirlike singing and she switches around with many ranges. and as the days go, the countdown to zero happens in the song. And it's really catchy. I love the part where she skips eleven and sings like ad lib, "I slept too long." and the day happens and she gets a text saying he made a mistake and she sings "you stupid fuck" in such a sincere way. I love it.
"Sancho Panza" is a bit punkrocky. Great chorus again. "Travelling With HS" has that great chorus. The album closes at 40 minutes with a song called, "Arjeplog" which is very melancholy.
Overall, she kept me so engage with the music the whole time that I can't really complain. Some songs are weaker than others, but none are skipable. It has good transition so listening to the album together is the best way to go and the tracklisting made the album even in terms of mellow vs noisy tracks.
Summary
: I'll keep it simple. There are 12 songs on this album. There are 12 songs I highly like. The singing is great. The melodies are great. The lyrics are great. This album is great. You stupid fuck you need to come back.
Key Tracks
: Lund, Middleclass, 25 days
Rating
: 8/10