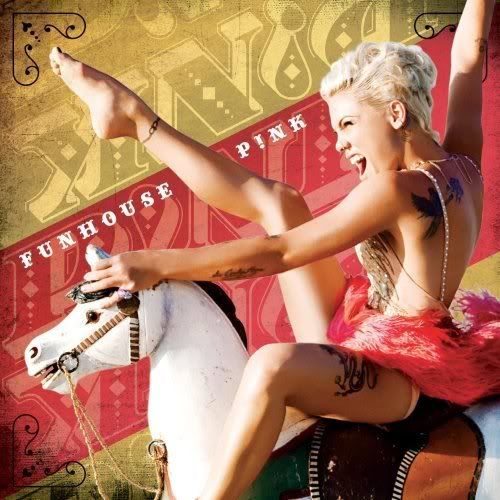 Release Date
: 10/28/08
Genre
: Pop Rock
I wanted to hate this because P!nk is such a crazy bitch, but I enjoyed this album more than I expected. Maybe I'm bitter because allmusic kept giving her 4.5/5 stars for her last 3 albums which I though was complete bullshit. But P!nk has hook. And this album hooked me.
Review
: "So What" is insane. The beginning is a little 'childish' but then the chorus is just so over-the-top that it's so hard for me to reject it. The bridge is a little unsettling, but it's okay. I love ridiculous music.
The hyperness stood with me for the second song and once that wore down, "Sober" was in its last leg and the hook of the chorus was enough to please me. "I Don't Believe You" is a well done ballad. It surprised me that she can sound really hurt and sensitive. Pretty heavy and the strings are well arranged.
"One Foot Wrong" is cool because she showed attitude and it reminds me of lounge music and she just doesn't belong, yet it works. The chorus is nice. "Please Don't Leave Me" is another slow start, but it gets better with more plays.
"Bad Influence"and "Funhouse" should turn me away, but it's so catchy. "Crystal Ball" is decent, but "Mean" has a country flavor so it's a little unpleasing at first, but again, she has a interesting hook with all of her songs and this one, hooks me.
"Glitter in the Air" reminds me of a christmas song.
Summary
: So a few bad songs, but most of them are catchy that I can live with it.
Key Tracks
: So What, I Don't Believe You, Bad Influence
Rating
: 7/10