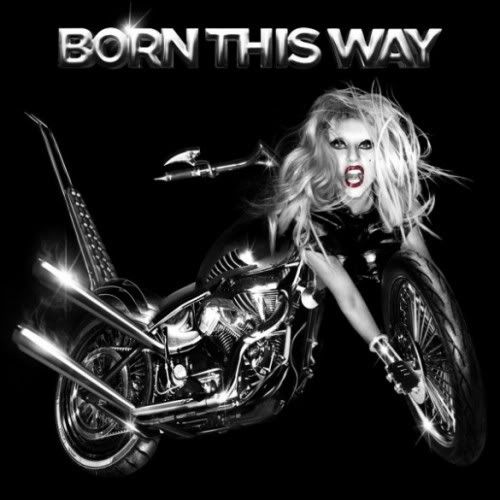 Release Date
: 5/23/11
Genre
: Pop
Are people serious when they say Lady Gaga won't be relevant within 5 years? I know she's not as original as she claims to be, but those who say she's not talented are just kidding themselves. I didn't turn my leaf for her until this
video
and it made me laugh, but I had no idea what song she was performing or why she was on the piano, so i went off to watch the original, which lead to her interviews, which lead to the question, "Is Lady Gaga serious?"
When I started listening to music, it was because of pop, but I drifted away from it because many top 40 songs were tame and afraid to experiment. Gaga isn't the greatest anything, but what I admire about her is her ruthless attitude for achieving greatness. She didn't get lucky. She worked her ass off in small clubs. Interviewers sometimes ask, "when did you know you had made it?" and she'll answer, "i haven't yet." It sounds crazy, but i guess it's because she still has something to prove to her doubters.
It sucks, but I understand Gaga isn't for everyone, but for me, she unlocked the barriers i had that I didn't know I had up. For any other pop darling, the standards are fairly low, just be catchy. With Gaga, she was someone I could not separate the music with the artist. The more videos I've watched of her on youtube, the more fascinating she became. Her persona, her visuals, her dance routines just added up. Everything she did was part of her "art." When "Bad Romance" came out, It felt like the biggest "gotcha" moment in music. No longer was she a guilty pleasure. She was someone I could be proud of.
Review
: "Born This Way" was incredibly hyped, not just from the fans, but Gaga and her production team. I'm sure everyone has heard the quote that she called it the "greatest album of the decade." It made me happy to know that was what she was working towards, but she should never do that again! That was a mistake. When i do listen to Lady Gaga, i mostly listen to The Fame Monster. Rarely do i listen to stuff from The Fame unless it's the acoustic versions floating around youtube. Hate on me if you will, but The Fame was pretty disposable. The Fame Monster, with its shorter time span, was more condensed and lyrically, the theme was much darker.
My expectations were hoping it'll lean towards the EPs' sound. A new track seemed to come out in the weeks leading to the album release. Once it leaked in full, i spent many listens to the album and i come to the conclusion that "Bad Kids" and "Highway Unicorn" are awful songs that it completely ruin the album. I tried taking a break and proceeded to listen to them with a fresh mind. The problem with those tracks are that they are boring and inoffensive. "Bad Kids" honestly sounds unfinished. I can hear the Gaga formula working with "Highway Unicorn," but that's all i saw. Just a typical Gaga progression with no imagination. It was just filler. The album runs at 1:01 so taking those two songs out would still be a meaty 53 minutes.
I already took the liberties to remove those two songs from my ipod so i could go straight to "Heavy Metal Lover." That song is fairly damp with bass and I didn't get it at first. Since my first listen was from the leak, i thought it was an unfinished version, but the subtlety worked when Gaga hits that "I could be your girl-girl-girl-girl-girl-girl/But would you love me if I ruled the world-world-world." That just made me go crazy.
"Electric Chapel" reminds me of some epic video game boss battle. All i can say is that i like the beat. "Yoü And I" has been in her live shows for her awhile and I get it, but something about the studio version makes it feel out of place. Lastly, the album ends with "The Edge of Glory." She sings the hell out of this track, but man, the sax is so ridiculous. I felt it dragged too much towards the end.
Now, The Fame Monster was only 8 tracks long, and honestly, if Born This Way only consisted of the first 8 tracks, i would have no problem with giving it high praise. It's not perfect, but as a unit, the first 8 tracks were all interesting and resulted with . Starting with opener, "Marry The Night," is a slow turner with some new wave influence.
"Born This Way" was the lead single and I think the Madonna comparisons were too hard because I don't think they sound a like at all. I get the undertone message of acceptance was there, but not the melody or beats. Overall, I liked the song, but i hated the "don't be a drag, just be a queen" line.
I thought "Government Hooker" was a shit song for a while, but it started to warm up to be. the line, "put your hands on me, John F Kennedy" is soooooooo lame. But i still enjoyed the song because it's bad, awkward, weird, and really, just sleazy sounding.
"Judas" is a blueprint sounding song that reminded me of Bad Romance. But within the flow of the album, it doesn't bother me as much. I actually enjoy singing along to it because i'm anticipating the hooks in my head so it gets me excited. Creativity, it's not that good. "Americano" is that macho sounding song with rich Latin American flavor. This is the shit i loved about her. cheesy pop music that's overly over the top. It's feels like the song is overflowing with ideas and she sings in Spanish too. It's dancey, it's silly, it's hilariously good.
Now for "Hair," it has the sax from "Edge of Glory," but somehow, i dont find it cheesy at all. "Hair" is a 80's throwback and the build up is fairly standard, but this song just works for me. I know, the lyrics are a bit youthful, "I just want to be free, I just want to be me And I want lots of friends who invite me to their parties," and the message is another "be yourself" statement, the music here is so pulsing that I actually feel cleansed. This song really blew me away.
"Scheiße" was a surprise to like because there was a remix out it out and when i started hearing the beginning german parts, I was thinking it'll be chunky, but after that, Gaga sounds really powerful and i guess this is an anthem for the females. the chorus sounds very familiar to her other songs, but the music's background music is very addicted. Very spaceship zip and zaps.
And finally, "Bloody Mary" is so slow, yet sensual. It's a slow one, but has this interesting bass with creepy undertones. The way she sings the chorus is so pretty. It's like she's painting her canvas with her voice.
Summary
: She's the best thing to happen to pop music. This album was made for her fans, so it has a more song by song approach than a whole album. Only two songs I would consider filler, the rest are stuff Gaga fans would be satisfied by. Now if only she would release an acoustic album because she can definitely sing her ass off.
Favorite Songs
: Born This Way, Hair, Heavy Metal Lover
Rating
: 8.4/10