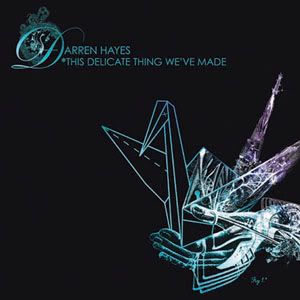 Release Date
: 08/20/07
Genre:
Pop, Electronica
I was looking forward to his album before the year started only to find out it'll be release at the end of summer. I was disappointed with a few CDs this year from my favorite artists, but Darren surpassed my expectations. It has songs that remind me of the Savage Garden era along with the quality stuff he did in his second album. Then there are songs that are a bit too experimental that didn't make me care, but with 25 songs, I can't really ask for more.
Review: "Fear of Falling Under" is a neat intro track that opens the album and ends with the beginning to "Who Would Have Thought" and actually makes the 2nd track more enjoyable. "Waking the Monster" is a fast talkative song where he doesn't pause his words, but the song is cool. "How to build a Time Machine" could have been amazing, but I don't like the chorus. It sounds gay, but the slow parts where he uses his pretty voice is beyond wonderful.
"Casey" reminds me of a song on Affirmation and it would do well with the general public if cut shorter. "Step into the Light" totally is the solo Darren and it is very dark. The music will make you feel uneasy at first, but it'll feel like it's being you in. Great build to the finish.
The next 3 set of songs are nice and mellow. "Listen All You People" is my favorite track on the album. It's fun. "The Only One" is amazing. "Bombs Up in My Face" sucks. The first disc ends with the heartfelt "Great Big Disconnect." Nice use of the guitar.

"On the Verge of Something Wonderful" is a great track. "Neverland" has a jumpy feel to it. "Walk Away" has no instrumentals except for the echoes of his voice. I thought it was okay. It has a beat towards the end.
"Maybe" is great. Feels very happy. In "Me, Myself And (I)" he uses those vocals that I'm not a fan of. Not my type of song. "I Just Want You to Love Me" is a moving ballad. So is "Words."
Summary: I feel that the album is his best record. A solid listen all the way around. Disc 1 is just as good as disc 2. Some of the songs could have been trimmed down. I like that it's fresh and a reminder of the old Darren. It's not album of the year worthy, but worth a download. I have a few favorite songs, but everything is on the positive side. I only feel that the songs where he is in angry voice mode are the ones I dislike, which is about 2 or 3 tracks.

Key Tracks: Casey, Listen All You People, Words
Rating: 7/10