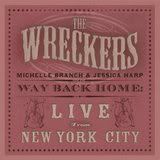 Release Date
: 12/04/07
Genre
: Country
From Michelle's standpoint, she got to make and play music with her best friend. Lucky her. But it's time for the two girls to go their separate ways, so this album is a good marker to remember The Wreckers goodbye.
Review
: But without being bias, I'm not digging this live album. Country music feels phony. I was already familiar with Michelle Branch's voices, so it was odd hearing her add a 'twang' to her vocals. Jessica's voices fits it better. The crowd itself didn't help either, but maybe that's normal for a country audience.
There are two new songs on the album, and they are super country. I hate them. Nearly every track is identical with the album, which isn't to say it's a bad thing, but it makes having a live album seem like a bad purchase.
If there's one song to listen to, it's "Tennessee." The highlight of the album comes from the end where the band just mellows out for a bit.
Summary
: Boring. I suppose it's a good timepiece of what The Wreckers were like on tour, before they decided to return solo, but I just don't enjoy it. I don't think I'll find myself listening to this album much either.
Key Track
: Tennessee
Rating
: 3/10