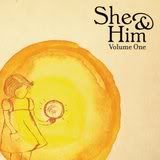 Release Date
: 03/18/08
Genre
: Indie Folk, Alt-Country
I was in love with Zooey Deschanel's voice when I first heard her sing in Elf. I'm so happy to see her take a dive in the music industry.
Review
: There's a old school feel to the album. I love it. I'm not sure if it's just her voice, or they recorded it in mono, but it sounds very vintage. There's cute stuff that reminds of me Lesley Gore and there's just stuff that reminds me of Rilo Kiley and the groovy 50s in general. Her voice was perfect on the ultra sassy "I Was Made For You."
The album begins with 3 upbeat songs. "Sentimental Heart" has an interesting simple melody. Then "Why Do You Let Me Stay Here?" is extremely cute. The best track has to go to "This Is Not A Test," it just has the best of both old and new. It's very neat. The next trio of songs are very jazz lounge-like. I was really pleased with "Change of Hard" and "I Though I saw Your Face Today." Both are fine example of her vocals grabbing the listener's mood.
The rest of the album is great as well. But it's also the same as the first half. But perhaps I'm bias.
Summary
: Impressive.
Key Tracks
: This Is Not A Test, Change is Hard,
Rating
: 8/10