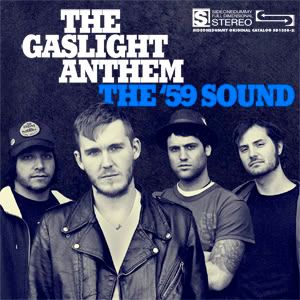 Release Date
: 08/19/08
Genre
: Punk Rock
Why is it called the '59 sound? Because that's the year music died!
Review
: Two months ago when this album first leaked on the internet, I loved it, but it didn't have those instant hits like "Drive" or "We Came To Dance," but I loved it. The main factor The '59 Sound didn't feel like the better album was because I though it was more polished and the overall feel was slower and less raw. I went back to their debut to confirm my feelings, but as I alternated between albums, the new record quickly grew on me.
I never was a strong supporter for "punk rock," but maybe because this band isn't really "Punk" as there is clear influence of rural America, blues and soul and to some extend, folk and country. I don't listen to Bruce Springsteen, but every article will mention the comparison with the band. What I love the most is how easy the melodies just come together. Although the lyrics aren't personal from my perspective, I enjoy the storytelling and it's fun where i can pick some fragments of the lyrics to relate back on.
"no retreats. no regrets."
On the first few listens, songs like "Old White Lincoln" "Meet Me By The River's Edge" will stand out for being fast and catchy. And I sound so typical saying "the more times you listen, the more you'll love it." But that's what will happen. I've grown close to Brian Fallon's raspy and scratchy voice.
"Film Noir" and "Even Cowgirls Get The Blues" both play on the down tempo side. Again, it's the smooth transition of verse to chorus that i didn't detect at first, but now i have this urge to sing along with it.
"Here's Looking At You, Kid" is probably my favorite and it's a slower songs. It's very sincere and sometimes bands who are known for being loud fail in their attempts at being mellow (have you guys heard the new Offsprings album?), but these guys can do it effortlessly. It doesn't sound so deep, but the lines "But boys will be boys and girls have those eyes" puts me into nostalgic mood, thinking about the playground.
I've been listening to the album enough times to tell the songs apart, but i can understand if someone complains for lack of variety. They do tend to bleed together, but at least it's consistent. "Miles Davis & The Cool" is the only one where i felt like they just cruised controlled it. Still, it's a great album and I know this band has a huge following in the underground scene and this album should propel them to new heights.
Summary
: It's so cool when the new album increased my love for the first one. I know my little review did no justice, but I just have a feeling that this band will be huge soon and when they do, I want you to be thinking of me :)
Key Tracks
: Old White Lincoln, Film Noir, Here's Looking At You, Kid
Rating
: 9/10