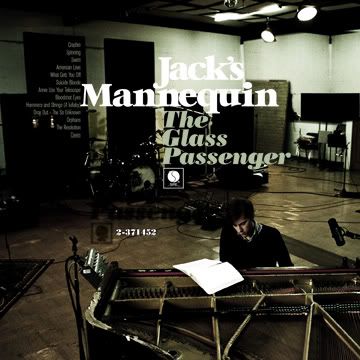 Release Date
: 09/30/08
Genre
: Piano Rock
I didn't know how big Something Cooperate was until I heard them get namedrop on the Lifehouse boards. I only heard "Ruthless" and figured they were another 1 hit wonder band. When Jack's Mannequin's album came out, I blindly bought it with the intention of giving it as a gift, but my gut told me to keep it. Great choice on my part. In a lot of reviews I've read, they always mention his battle with Leukemia and how it's a huge inspiration. I won't take that away from him, but his journey won't affect my opinion on his music. Good thing "Everything In Transit" is amazing music. Lots has changed in 3 years.
Review
: When the album first leaked nearly 6 weeks before it's release date, I was beyond excited, only to be disappointed in how contain it felt. It felt lost or safe and the slower songs felt sappy. Piano Rock on cruise control. I feel like I've been saying this a lot in my past reviews for the week, but it's very hard to absorb so many different types of music at once so maybe in the last week of August, I was merely looking for something else. So I left the album alone for 3 weeks and here I am again, hopefully fresh and this time, listening to it in the order Andrew intended.
The two stand out songs I notice immediately were "Crashing" and "Spinning" and the official tracklist has them as the first two track. I have no problems with that. My favorite track on EIT was "Dark Blue" so I really wanted more songs like that and these two are close. The piano is always doing something interesting. Great rush. I would put "Bloodshot" in the same category, although it has more of a chaos feel.
"Swim," "American Life," "Drop Out - The So Unknown," and "The Resolution" are all songs I semi-expected to come out of this album and for that, I'm satisfy. It's hard to describe because it's almost filler, expect it's not shitty filler. It's the thumbs up kind. "Hammers And Strings(A Lullaby)" is awesome.
Lastly, the three songs that had me scratching my head, "Suicide Blonde." What the hell is this? It's not a very pleasing song to listen to, but I almost enjoy it just because I'm trying to figure out if I do indeed like it or not. It's basically the chorus that throws me off. He sounds aggressive, but I hear a bit of Weezer influences in the later half. I will tell you this, I don't skip it.
In "Annie Use Your Telescope", there's pretty much one chorus repeated over and over. "Annie, use your telescope." And the crazy thing is, many people on the last.fm shoutbox love this song. I just don't get it. The music is very foggy and it doesn't really feel like something that hasn't been done before. New to Jack's Mannequin sure, but no way the album's best.
"Caves" is the album closer and I don't feel that it's really all that epic. To me, it was just one of those long slowly build climatic songs to satisfy those fans who wanted a grand closer, but it just felt formulated and dare I say it, boring.
Summary
: I've always been more kind towards their faster pace songs and those delivered, but I was a little displease overall in the sense of how there's more of a drag in a lot of the songs. Sometimes it's just better to end it early. I feel like I'm being harsh, but compared to EIT, it doesn't compare.
Key Tracks
: Spinning, Crashing, Hammers And Strings(A Lullaby)
Rating
: 6/10