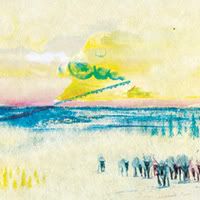 Release Date
: 11/02/05
Genre
: Post-Rock
Early 2007 was an insane time for me finally knowing every worthy post-rock band that was out. Explosions in the Sky was my first, then Sigur Rós completely changed everything I knew about music. Yndi Halda kicked my ass. And finally, sgt. had to fuck shit up again. I wanted to write a review on this when I discovered it last year, but I felt 2007 albums were more important. Now that their first real full length album comes out this week, I wanted to write a little something. And secondly, if someone wanted to know what I consider a 10/10 album, here's your example.
Review
: Static static is what the first song is, but there's a faint distance melody which lightly carries to track 2, "銀河の車窓から" and holy mother, even the first few seconds tell you something. Just a tap here and there as if the drummer came to rock out early. I can sense it's working towards something and it gradually speeds up. Very dynamic sound. Guitars swirling in and out. Finally 2 minutes in, the violinist said hello. Amazing. It continues and we start to hear a rough deep base and repeats until it becomes the dominate sound. Each member seems to be playing off one another taking turns.
And near the 6 minute mark, the violinist has a short solo and when she finishes, we're treated to this eighth notes and during my first listen, I actually said out loud, "are you serious?" because I couldn't believe that this was going to happen. The first 6 minutes was cool, but it felt like it was going to erupt any second now. And it did. Like I like my instrumental music to have a leader, and even though the violins here steals the show, it's every instrumental that made this song so amazing. This is probably my second favorite post-rock song of all times, behind "A Song For Starlit Beaches." The last 3 minutes are pure heaven.
Afterwards, 春風 is a incredible ambient track. It has directions. It has melodies. It isn't the same 3 chords over and over. It's also the perfect transition song for "Moewe" and it's 5 minutes of epic soaring music that flies. Everything that needs to happen, happens on the track.
The last track, "........." is a little different, but it helped me like jazz, abstract, improvisation music more. I don't know if it's improv, but it feels very creative and on the spot. Add some saxaphone in them why don't you. Excellence track, but it might be longer to get into. The other tracks were engaging right on. This one needs to unfold.
Summary
: Sorry Mono, but this bands wins for best Japaneses post-rock. This album is intense and there's no bullshit tracks like in many post-rock albums I find these days. This is anything but standard.
Key Tracks
: 銀河の車窓から, 春風, Moewe
Rating
: 9/10