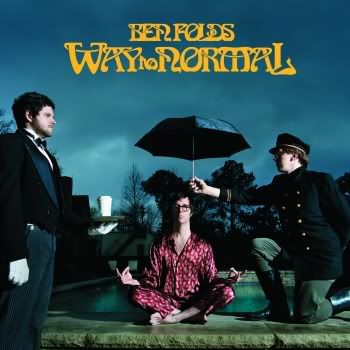 Release Date
: 09/30/08
Genre
: Piano Rock
I got nothing except a few songs from Ben Folds Five to based my judgment on him. I also liked The Bens. So what's with the lukewarm reviews?
Review
: Damnit, I wrote that intro while only on the 5 song. Well the first 4 are pretty good. "Hiroshima (B B B Benny Hit His Head)" had a live crowd going and just feels explosive. "Dr. Yang" has that fast piano going on. Fun and cheery. "The Frown Song" continues it with another upbeat catchy chorus. "You Don't Know Me" was almost a let down as Regina Spektor hardly did anything, but overtime, it grew on me.
"Cologne" and "Brainwashed" both had nice beginnings, but then I got bored quickly. "Errant Dog" is chaotic. "Free Coffee" suck. "Bitch Went Nuts" and "Effington" are interesting. Parts of them have good melodies, but something doesn't quite click. Album closer, "Kylie from Connecticut" is pretty standard. nothing new.
Summary
: Some good stuff, but overall a standard poprock release.
Key Tracks
: The Frown Song, You Don't Know Me, Bitch Went Nuts
Rating
: 6/10