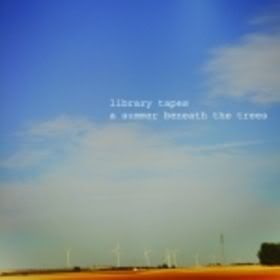 Release Date
: 10/31/08
Genre
: Ambient
I've been out of touch with the whole post-rock scene since a lot of bands disappointed me this year. I'm glad I picked Library Tapes to start me off again.
Review
: I can't remember if I ever gave Library Tape a listen before. O well. I would place this band in the same category as
Max Richter, Takahiro Kido and Peter Broderick
. It's the minimalist kind, but there's enough melodies in whatever instruments that allows me to visualized the music in my head. Extra strings, extra piano notes, extra guitars. Stuff like that.
Melancholy is the right word. "Above the Flood" and "The Modest Triumph" are the only ones that feel grand. Everything else is really mournful. I don't feel depressed, but I get the feeling that it's time for me to reflect. That's what this album makes me do. Each song feels quiet, but it slowly progresses into something meaningful. The last song is awesome once it finishes its 11 minute timespan.
Summary
: Really pretty music.
Key Tracks
: Above The Flood, The Modest Triumph, ...And The Rain Did Fall
Rating
: 8/10