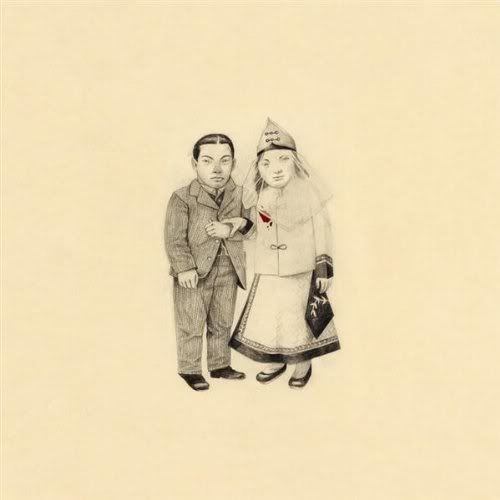 Release Date
: 10/03/06
Genre
: Indie Rock
So I was a big post-grunge, alt-rock person with pop-punk bands posing as "indie rock" giving them a bad rap for me. Then The Decemberists' name kept getting dropped and I don't remember what album I started with, I think it was the one with "July, July!" and his voice needed some time to get used to, but their music was addicted. Could I related to their lyrics? not really, but it sounded good. And because of that, The Decemberist was the band that help me open the door of the so-called world of "indie" music.
Review
: Short background, this album was inspired a Japanese folk tale. "The Crane Wife 3" opens the album and it's easily my favorite. The whole sound is really appealing and the buildup is predicable, but eagerly wanted. And I love everything about it. From the acoustic guitars to the light piano touches that seems to follow your thoughts. Everything just comes together. Part 1 and 2 can be found on track 9. Part 1 is awesome because it's a high pulsing song, but part 2 is a little anti-climatic. It's a bit unorganized and feels less focus. Still nice, but not as strong.
It leads to the album closer, "Sons and Daughter" and it's a friendly tune. The guitar progression repeats the whole time and gradually gets louder overall and it's a song that's gently tilts your head back and forth.
In between, we get good songs such as "Yankee Bayonet (I Will Be Home Then)" with the help of Laura Veirs and it's a cutesy song. I remember for a week, I had this song in my head and I had no idea where it came from. "O Valencia" is another song with a strong chorus. Great hook.
The other songs might not be as 'catchy,' but I was drawn into them for some reason. "Summersong" felt like it was from France so I enjoyed that touch. "When The War Came" is a dragged out song, but I still listen. Honestly, "The Perfect Crime" is pretty stupid. And "Shankill Butchers" shows them stripped down.
Summary
: Great 60 minutes of music.
Key Tracks
: The Crane Wife 1, The Island, The Crane Wife 2 And 3,
Rating
: 8/10