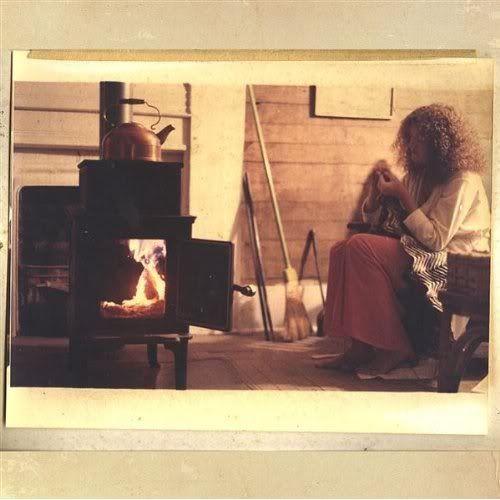 Release Date
: 09/09/08
Genre
: Folk
This album is 4 minutes longer than their EP, which by the way was a very good EP. I had trouble finding this online, so I just gave in and downloaded it off eMusic. Best surprise buy I've done in years.
Review
: Album starts with the title track with very gentle folk guitars with very isolated vocals. Strings enter correctly. And then the coolest thing happened. Garden stomping sound effects. It's eerie and comforting. Spooky and sane. He'll just be repeating the same phase over and over outdoing the previous efforts. And in the end, the strings just know correctly on when to apply pressure. And those short phases like "no one is perfect," just crumbles in my skull.
"Walk Around the Lake" is the weakest track on the album only because the other 8 are better. And I think track 2 is less friendly with it's opening thunder-like strings. But the gradually build up is great and I really feel satisfied in the end. "Sometimes all it takes is a walk around the lake."
Track 3 is entirely instrumental. I've always been bad at trying to 'review' instrumental songs so let's just say, it's very much like classical as it's a orchestra, but I think there's more fireballs shooting out of the pit. Just know that it doesn't feel separated from the other songs. It belongs.
"Song for the Painter" is one of those songs you love instantly and wonder why it's not a single, but it's just too good for it to be giving away for free. Within the realm of the album, it's one of those special unexpected gifts you need to hold close. And I sound selfish now, but I just feel that it's not meant to be heard by the average person. They just won't protect it like I will. Like it's an easy song to take in, but after hearing how much flare their music can be, the lyrics to this song hits deep. "I shout out to my grandparents, I hope you find each other in heaven." And the line, "I do anything to cry." Gosh. Amazing album track.
"Fireplace" is their best bet for stand alone song. Like it's a great introduction if a person wanted to just know right away if this was his type of band. The electric guitar has this steady melody, sometimes changing keys, almost acting as the dominate drums. But during the chorus, it stops being tiresome and plays with the strings. I love the addition of the female (i think it's female) vocals just giving the second verse something new, yet the same feeling.
"Love On My Side" reminds me of a country fair. I think I hear clapping. And the guitar keeps the same rhythm throughout. It's just a nice song to sing with. "Wooden Walls of this Forest Church" is a short track, but the quality of it is on par with the other songs. Very gentle. Very reflective. "What have I learned? The coward is so concern."
Track 8 is an instrumental track. There's a story to the song. Maybe romantic? Maybe someone's life story. Once the piano leaves, you can feel the tension in the middle of the song.
And last, "For Leah and Chloe." Excellent strings. Frail vocals with the cellos accompanies his words. It isn't epic, but it wraps the whole album the way a closer should be. So even with the short runtime, this album works just fine.
Summary
: Basically, every song is gold.
Key Tracks
: All Alone in an Empty House, Song For The Painter, Fireplace
Rating
: 9/10