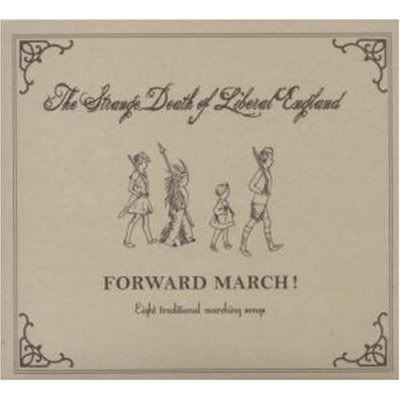 Release Date:
09/07/07
Genre:
Art Rock, Folk
I trust the Silent Ballet, but it's a bit weird that they even reviewed it because this band isn't post rock at all. It's more indie rock in the style of Arcade Fire and folk like The Decemberist.
Review:
"Modern Folk Song" is an amazing opener that is the highlight of the album. It's so layered in music. After that, all the tracks become a fun riot-like anthem of an album. "I Saw Evil" does that well. It does have balladish songs such as "A Day Another Day" and "An Old Fashioned War." There're fun to hum along to. Track 5 through 7 don't do well with me. It makes me feel wore down. The album ends with a decent instrumental display, but not to impressive.
Summary:
It's hard for me to comment on albums like this because it's not bad music, but it's not something I hold on to. If I heard someone was a fan of this band, I would say, "Hey, those guys are interesting." I like the first half, but the second half is boring, but tolerable. It only runs at about 30 minutes so I'm sure these guys are holding stuff back.
Key Tracks:
Modern Folk Song, A Day Another Day
Rating:
4/10