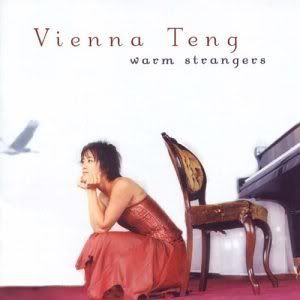 Release Date:
02/24/04
Genre:
Piano Pop, Easy Listening
I learned of Vienna Teng from Last.fm and I clicked on her first because of her pretty picture, so her voice has to be good. And it is. She's a engineer turned singer/songwriter. It's funny how she slip passed me under the radar all these years. She's not radio friendly catchy, but she is easy listening melodic jazzy classical piano catchy.
Review:
The first three tracks just showed me that she was easy to listen to, but not too impressive, but track 4, the ballad "Shine" made me take a step back. It's heavenly in song, and gloomy in words. It's very gentle and the sight hint of background strings are amazing. After that, I realized she was special. I just wanted to hear her voice to give me comfort. "My Medea" has the epic feel to it with the strings moving in closer in the middle.
Tracks 7 and beyond are the strongest. Catchy yes, but mainly beautiful piano plus vocals working well. "Anna Rose" is very heartfelt, "how it grows, heaven knows, Anna Rose." She does a vocals only song in "Passage." The story it tells is pretty sad.
Summary:
Mandy Moore's new stuff is trying to sound like artists like Vienna, except Vienna is naturally herself. I like to listen to Vienna to go to sleep. It's peaceful and restoring. She's not a rockstar, and that's one of the cool traits about her.
Key Tracks:
Shine, Anna Rose
Rating:
7/10