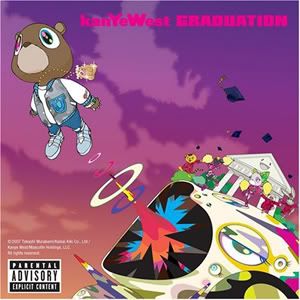 Release Date

:
09/11/07
Genre:
Hip Hop
I am not a hip hop fan in the slightest, but Kanye has always had catchy beats that I enjoyed. I also like that his lyrics aren't always about violences and women. So from a rock perspective, this is how I view his album.
Review:
The first track is an intro that made me feel like it was the start of greatness and then "Champion" begins and it's a good beat, but not that awesomeness I was seeking. Then there's the lead single, "Stronger" which I don't like personally, but it grew on me. The beats don't fit well in my opinion, but the lyrics always make me laugh for the sheer oddness, ex: "black kate moss" "blonde dyke."
The tracks "Can't Tell Me Nothing," "Flashing Lights" and the tracks in between don't settle well with me. I find them to be dull and draggy. The last 3 tracks of the album get better. Chris Martin does guest vocals on "Homecoming" and I enjoy the song, but I don't like Chris's vocals as much. It doesn't blend well. "Big Brother" is a positive song and closes the album. It's a nice tribute to Jay-Z. Very deep.
Summary:
So for a hip hop album, I guess it's okay for my standards. I like beats and there wasn't a lot of catchy beats in this album. The first 3 and the last 3 are some stuff I wouldn't mind hearing again.
Key Tracks:
Champion, Good Life, Big Brother
Rating:
6/10