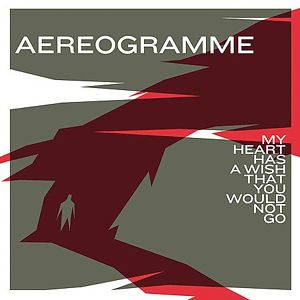 Release Date
: 02/06/07
Genre
: Rock
When I went through my first listen to this album, it was difficult to listen to the 2nd half because the first 5 tracks were so good. When I searched them on the web, sadly, the group broke up. With more listens, the album grew on me. It's a movie in itself.
Review
: My first impression of these guys were that the vocals didn't match with the music because the music is rough while the vocals are so light. But it's also what pulled me into listening. It's naturally sad and with the addition to the strings, creates this mournful atmosphere and there's a sense of an epic journey ahead for the person.
The first 5 tracks are perfectly placed back-to-back. "Barriers" has really good lyrical content and the climatic chorus really stands out, "Let me build bridges into your life." Best of all, there's an amazing violin solo right after the bridge that sends this song above the rest of the album.
"Exits" has a more shoegaze feel to it that's sort of depressing. It really feels like he's giving up, especially with the repeating lines at the end, "There's no way out, no way in, might not be needing this oxygen." Then the next song is positive and I get a dizzy feel like I'm running towards something worth it, but it's hard to tell if I need to keep going straight or search for it.
"Finding a Light" follows the same path. By now, there's a common element with all of their songs, but "Finding a Light" is my favorite use of it. It's how the first verse builds up to a climatic first chorus and gives that epic thunder it needs. All the emotion/energy is used at that moment, but it never runs dry.
"Living Backwards" and "Nightmares" are darker, haunting and sightly creepy. After the treatment of beautiful songs, those two turns the direction of the album. They are still great song, it's just not as accessible as the others.
"Trenches" has an Olympic feel to it. It's a love song and one of the highlights of the album. The album closes with another light song, "You're Always Welcome." It's a good solid way to say goodbye.
Summary
: One of the surprises of the year. I went to check out there other albums and it's not nearly as good as this. I'm sure their original fans might be disappointed, but their lighter side is much better. It's a shame that the band didn't want to continue.
Key Tracks
: Barriers, Finding A Light, Trenches
Rating
: 8/10