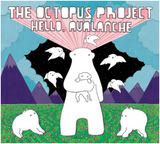 Release Date
: 10/16/07
Genre
: Electronica
I got this band off of a friend on last.fm. What I got was a real nice treat.
Review
: The album starts with a mellow intro that gave me the impression that this was a gentle instrumental album. But "Truck," the second track just kicked my ass in sheer awesome. It sounds very Nintendo and I started smiling alone, which might look creepy if there's only 4 people on the bus. But hey, the song is very chilly. The tread continues for the next few songs.
I think somewhere between tracks 7 or 9, it loses that 8-bit quality that was making it sound fresh and the second half became a sludge of typical electronic/instrumental music.
Summary
: First half is better than the second half.
Key Track
: Truck
Rating
: 5/10