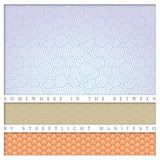 Release Date
: 11/13/07
Genre
: Third Wave Ska
I never listened to Ska, but then I listen to Catch-22's Keasbey Nights which is the brainchild of Tomas Kalnoky who later formed Streetlight Manifesto. So although the band is labeled as ska, it appealed to me because they mix a bunch of elements of other genres so I find them very refreshing. But seriously, they are an awesome bunch of people. So 4 years later, we finally get a new original Streetlight album.
Review
: The atmosphere is all over the place, best described as a riot for awesome. The opening track "We Will Fall Together" beats any song Streetlight or Tomas's other projects have done in the past. Then followed by "Down, Down Down to Mephisto's Cafe" which is even better. and it has the crazy addicted chorus of "we're going down down down to mephisto's cafe' followed by incoherent words. I like the line "And I knew you when you were you before they twisted all your views."
I wasn't impressed with "Would you be Impressed," but "One Foot on the Gas" is an anthem. "Watch it Crash" is another riot of a song with the memorable line "so mercy mercy mercy me. praying for the death of a man I'll never meet."
The second half of the album takes a relaxer approach and more trumpet playing. The title track follows the past title tracks in that they live up to being good. It sounds like it's part of a musical and the 'hey' background vocals make the song great. Let's not forget the sexy solo in the mist of it too. There's another mini solo in the second half of "The Blonde Lead The Blind."
The album ends the 'Keasbey Nights' trilogy with "What A Wicked Gang Are We" and it's not exactly a wow finish, but it's badass. "Everything is wrong."
Summary
: I knew what I wanted and I was happy with the results. It's a great record for anyone, doesn't matter what genre. I like Tomas's vocals better in this album as they are crisper and the music, I can't say enough about it. It's just a musical riot with so many different instruments going at it. Yes, it has a punk attitude to it, but it's not careless angst music, it's just good music.
Key Tracks
: We Will Fall Together, Down, Down, Down To Mephisto's Cafe, Somewhere In The Between
Rating
: 8/10