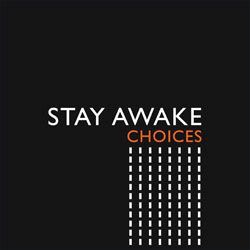 Release Date
: 07/10/08
Genre
: Indie Rock
I always prefer having a hard copy for my musical purchases, but I was in dire need of anything Moving Mountains related that I decided to purchase this little niffy EP. If I got my info correct, Frank Graniero is the main guy of Stay Awake and Gregory Dunn did production. It was only 5 bucks so I though it would be worth it. And I tend to like music better if I actually paid for it.
Review
: So this EP goes by rather quick. Only 16 minutes and I really like how the tracks sound great next to one another. The first track, "You Don't See It" is a 9.5/10 song. Compare to the rest, it's the most stable. Like the instrumentals don't go crazy and the vocals are pretty faint. If it had a finish, I think it could be one of the highlights of the year, but instead, it ends with a quiet outro leading into "Pictures" which is a pulsing track. So much energy into the chorus.
The last two tracks remind me of my alternative radio station. 2000's Jimmy Eat World comes to mind. I don't know if that's accurate. Anyways, I'm really enjoying the energy and raw prowess. "Take Me Where You're Going" is my favorite.
Summary
: It's a pretty good listen for 16 minutes. As much as I enjoyed it, I don't feel that the sound is particularly new nor does the vocals have the power to grab me. Still, it's nice checking out and I find myself listening to it over and over. I just wish the digital download wasn't restricted to 160kbps.
Key Tracks
: You Don't See It, Take Me Where You're Going
Rating
: 7/10