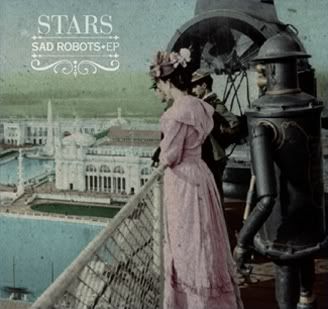 Release Date
: 09/01/08
Genre
: Indie Pop
Is it just me, or do more and more bands just throw their stuff out on the internet asap once it's ready? Whatever the case, I love it. I don't need a band to release a single 3 months before the album.
Review
: So the beginning has a gentle ballroom dance melody for about 2 minutes. Sounds great and it has those added electronic effects that is so Stars-like. I think the voice is suppose to be a robot. "A Thread Cut With A Carving Knife" has this repeating keyboard melody that makes me feel like the song is on a cloud. It does have a 'high' point so it isn't a flat one. Amy's vocals on this song is insanely gorgeous especially when she first enters.
"Undertow" is a Amy song. A mellow song in nature. I like it because it's easy to listen to. "Going, Going, Gone" is a old song, but it's new to me. The opening parts made me go wow. The synthesizer isn't overdone and again, Amy's vocals are killer. But the ending doesn't satisfy me. I wanted more of a fight where they play off one anther, but Amy just floats off.
Doesn't the piano melody on "14 Forever" sound like U2's Beautiful Day?
Finally, "Sad Robot" is short and in french. It's made of love.
Summary
: Really mellow and lush, but magic as ever.
Key Tracks
: A Thread Cut With A Carving Knife, 14 Forever, Sad Robot
Rating
: 8/10