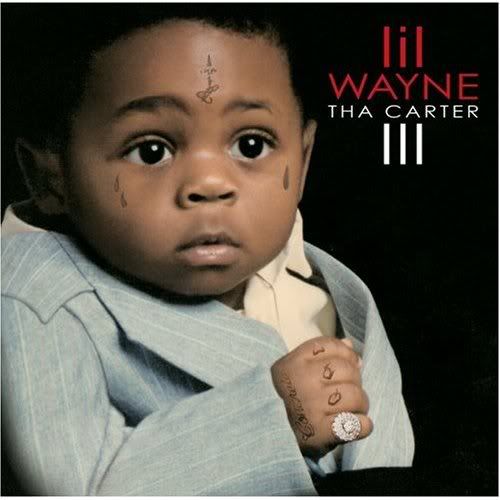 Release Date
: 06/10/08
Genre
: Hip Hop
I wasn't planning on reviewing this, but the praise it received for a rap album was insane, I couldn't let it go. After Atmosphere, this is my second most listen to rap album of the year. That's not really saying much, I know, but Girl Talk's new album made me love Wayne's funny vocals.
Review
: Let's start with songs I like. "3 Peat" gots some killer momentum. "Mr. Carter" has a good flow. "Got Money" feels very grand and T-Pain is alright in the chorus. "Comfortable" is cool. "Dr. Carter" is a sick song. "Let the Beat Build" has a good beat, but of course, Kanye produced it.
I love his weird namechecks of Adam Sandler, Mike Lowrey, Macho Man Randy Savage. Towards the last third, I'm not that interested anymore. The beats like on "Shoot Me Down" and "You Ain't Got Nuthin" just gets dry and the guest on the track don't really add interesting. "Phone Home" has a dumb chorus, but Wayne's parts are good. There's also simplified beats that don't really work well like "Tie My Hands" and "La La." His vocals aren't really good so it sounds bad.
Summary
: Overrated yes, but there's some decent good tracks here.
Key Tracks
: Mr. Carter, Dr. Carter, Let the Beat Build
Rating
: 7/10